100% ARGAN OIL BEAUTY ELIXIR 50ML
100% ARGAN OIL BEAUTY ELIXIR 50ML
100% ARGAN OIL BEAUTY ELIXIR 50ML
RM95.40
RM318.00
or 3 payments of RM31.80
Promotion:
RM20 Off Min RM350
Add: RM60 Off Min RM600
In Stock
Brand:
Athena
Product Code:
8002842169671

Frenshi aims to deliver within the agreed time frame upon purchase. However, we are unable to guarantee that all orders will be delivered within the stipulated time frame.
Delivery will be made to the address specified by the Customer on the completed order form.
At Frenshi, all of our shipments will be sent out from Monday – Friday by using our appointed courier service providers. Orders will be processed on the next day and customers will be receiving the order within stipulated working days except for public holiday.
100% ARGAN OIL BEAUTY ELIXIR 50ML
100% Natural argan oil
Argan Oil is a natural blend of rich active substances, with vitamins A, E and F, essential fatty acids, linoleic acid, omega 3 and omega 6, flavonoids and carotenoids, making it a precious nectar for skin care. Provides deep hydrating action; bio-restorative and regenerative of skin lipids; perform direct action on collagen and elastin, anti-oxidizing, anti-free radical. Stimulates cellular oxygenation, calms redness and flaking, provides intense nourishment, smoothes wrinkles and expression lines, making skin soft, pliant, compact, velvety and radiant.
RECOMMENDED FOR:
DRY SKIN: deep moisturizing action.
SENSITIVE, REDDENED, FLAKY: bio-restorative and regenerative action of skin lipids
MATURE SKIN, WRINKLES, EXPRESSION LINES: anti-age, anti-oxidizing, anti-free radical, direct action on collagen and elastin.
DULL SKIN LACKING RADIANCE: promotes oxygenation and cellular regeneration.
APPLICATIONS:
FACE AND NECK AREA: a few drops in the morning and evening are sufficient to counteract the appearance of wrinkles and visibly soften existing ones. Makes skin smooth, velvety, radiant and perfectly moisturized
FRAGILE HAIR: apply onto dry hair as a mask and leave on for at least one hour. Revitalizes, fortifies the hair fibre and gives exceptional shine.
IN THE BATH: pour a few drops in the water to regain soft and velvety skin.
DURING PREGNANCY OR WHEN DIETING: prevents stretch marks by acting directly on the formation of collagen and elastin.
FINGERNAILS: applied locally, nourishes the cuticles and strengthens fingernails. SHAVING: a few drops before and after shaving leaves skin extraordinarily smooth.
PSORIASIS: eliminates itching and reduces flaking by 40-80% (apply locally twice a day).
BLENDED INTO NORMAL DAY/NIGHT CREAM: boosts effectiveness Leaves no oily residue and is instantly absorbed by the skin.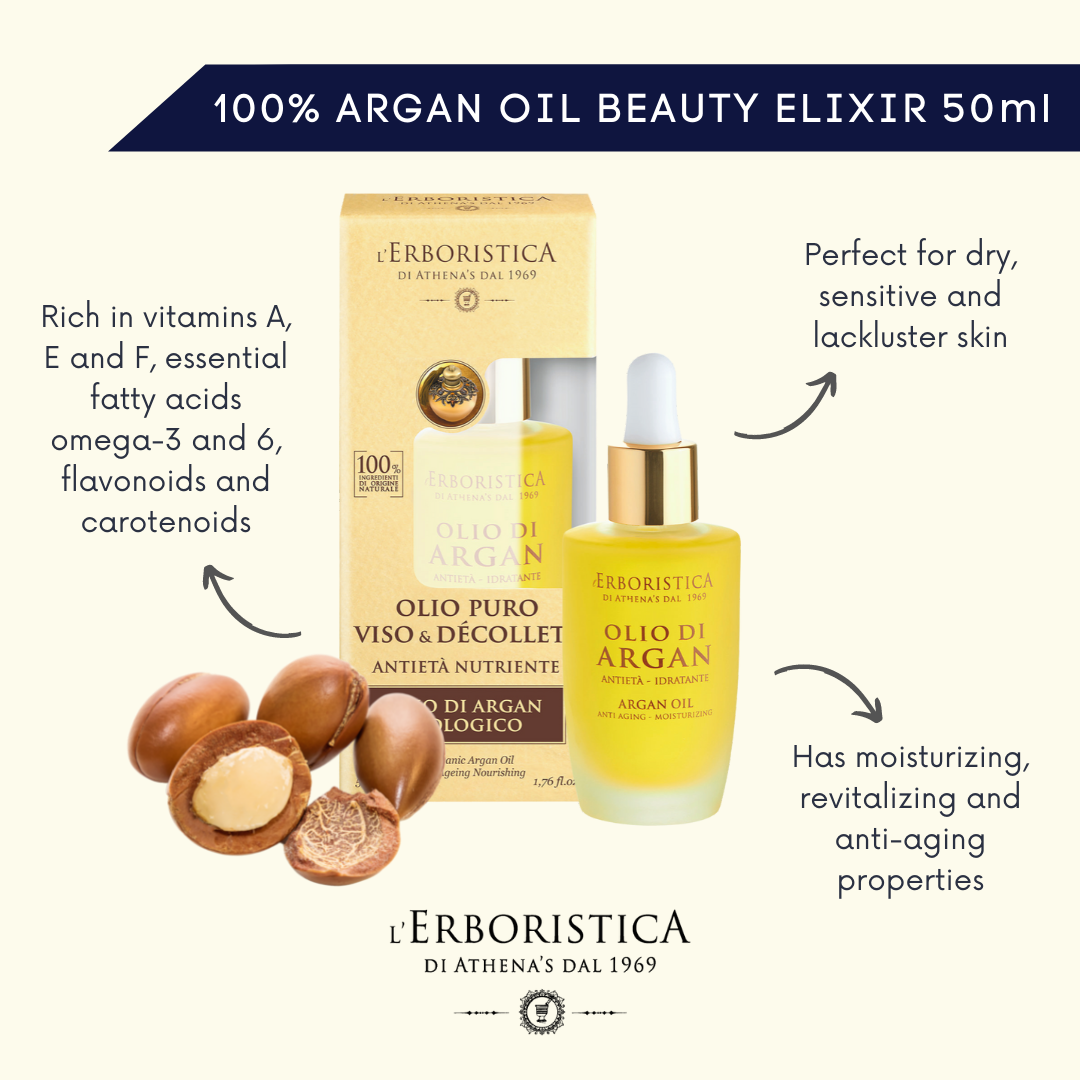 Body Care
Skin Solution
Nourish
Skin Type
Normal Skin
Face Care
Skin Type
Dry-Skin,Normal Skin,Sensitive Skin
Skin Solution
Anti-aging,Elasticize - Firm,Moisturize,Nourish,Regenerate,Sooth
Product
Product Type
Serum
Lines
Argan Oil
Write a review
Name:
Rating:
Bad
Good
Your Review:
Note: HTML is not translated!