Hair Loss & Weak
DEEP REPAIR


ORGANIC PROFESSIONAL TREATMENTS FOR YOUR HAIR
DEEP REPAIR
Just as in summer it is necessary to protect the hair from sun and salt, even in these colder months rain, wind and snow may have damaged your hair. During the season changes the hair is weaker and you can see a greater loss. Do not be scared though !! This is not your problem, but a natural phenomenon that lasts a few weeks.
A healthy hair is much easier to handle and to treat than a damaged one. This is why a first step to keep hair healthy and beautiful is to know what are the main aggressive agents.
Permanent and treatments, if too invasive can damage our hair.
The choice of wrong styling products. Each hair needs a specific treatment, so choose the one that suits your hair.
A right and constant hydration: it is important to nourish and moisturize the hair after each wash.
It is starting from these requirements that our Laboratory has developed the TRICOBIO Deep Repair line for dry, brittle and damaged hair. A biological line rich in vegetable keratin, derived from wheat, rice, oats, with an important restructuring and strengthening action. Keratin is inserted into damaged hair fiber, increasing resistance and elasticity. The result will be more full-bodied, soft and shiny hair.
TRICOBIO Deep Repair is an innovative and unique trichological line composed of 4 products of which we suggest a joint and continuous use:
– Restructuring shampoo: used frequently will improve the resistance and softness of your hair.
– Nourishing conditioner: a small amount of product is enough to nourish and repair the damage caused by external agents.
– Liquid crystals silky finish: a blend of precious highly functional vegetable oils (Squalano, Argan Oil, Baobab Oil, Shea Butter, Vit. E) make it particularly suitable for repairing split ends, damaged and damaged hair.
– Fortifying hair serum: creates a light film that makes the hair thicker and fuller. It is sufficient to apply a few drops on length and tips to increase the resistance and elasticity of the hair.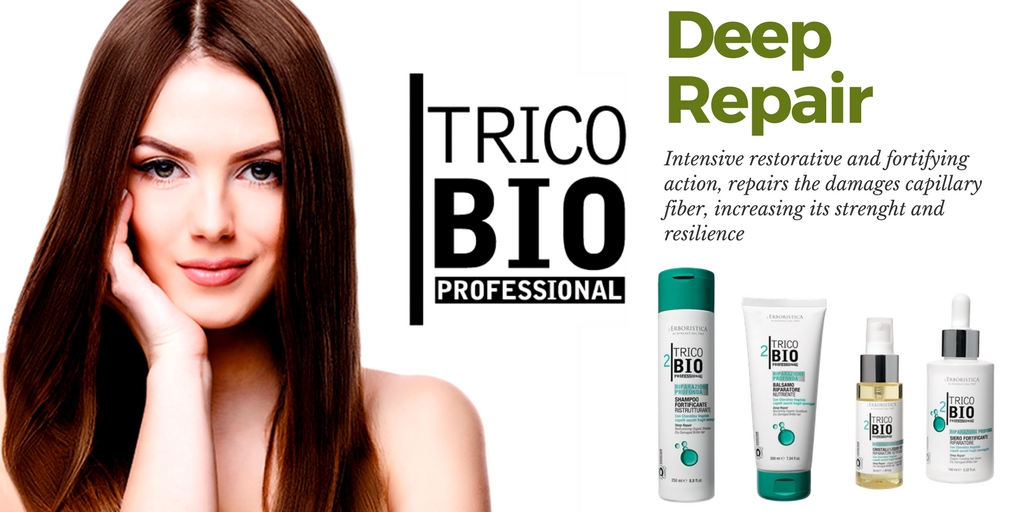 TRICOBIO PROFESSIONAL HAIR DEEP REPAIR
Basic ingredient: Vegetable Keratin, coming from selected protein fractions of different cereals as like as wheat, rice, oats and other. It performes a restorative and fortifying action by inserting into damaged hair fiber and increasing its strength and resilience.
It improves the aesthetic appearance of the hair making it bright, full-bodied and soft.
ORGANIC PROFESSIONAL TREATMENTS FOR YOUR HAIR